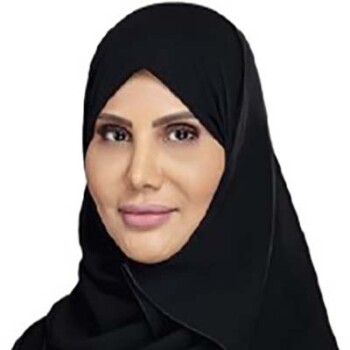 Aysha Al Mehri
Group Chief Nursing Officer
Burjeel Holdings
Ms. Aysha Al Mahri is a seasoned executive, and well-regarded Nursing leader who joined Burjeel Holdings as Group Chief Nursing Officer and brings with her over 25 years of experience in the healthcare industry this includes but not limited to ( Ministry of Health, Al Jalilah Children's Specialty Hospital, ADNOC, DOH and Abu Dhabi Health Services Company – SEHA ). 
She has successfully led a number of key Nursing strategic initiatives including the enhancement of financial effectiveness of hospitals clinical operations through the provision of innovative workforce business plans, the adoption of technology & digital health in Nursing profession, as well as her advocacy with proven results, and reputable success in Nursing professional development, education and research and never the less, the first time implementation of clinical costing concept in nursing services. 
Ms. Aysha has a dual two master's degrees, one in Health Economics from Sorbonne University, Abu Dhabi and the other in healthcare management from the Royal College of Surgeons, Ireland.
She obtained her bachelor's degree in nursing from the University of Sharjah in addition to her Nursing leadership Certificate from Mc Master University – Canada . 
She is a board member of the Mohamed Bin Rashid University Advisory Group of Nursing College, and the former president of the Emirates Nursing Association ( 2013- 2022), Board member of UAE Nursing and midwifery council and Member in the National Committee of Nursing and Midwifery affair .  
In 2020, Aysha as nurse leader played a vital role to sustain the nursing workforce during Covid pandemic through with responsibilities of Planning, Design and on boarding of the nursing manpower, in addition to the Execution of all Field Hospitals & Covid-19 facilities under SEHA across UAE
In 2021, She was the first female from the middle East region who awarded the HIMSS Change maker in Health awards for her contribution as senior executive to improve care by harnessing the power of information and technology.