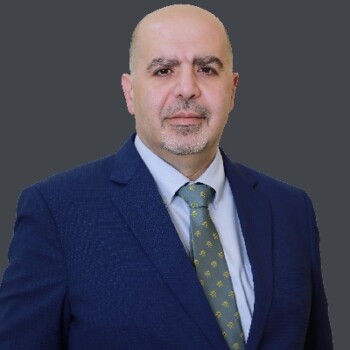 Dr. Ahmad Al Khayer
General Manager and the Medical Director
NMC ProVita
Dr. Ahmad Al Khayer, MCH Orth, MRCS, FRCS, FEBPRM, FISQUA, MBA – The General Manager and the Medical Director of NMC ProVita.
He graduated from Damascus University medical school, then completed his Rehabilitation Medicine specialty training in Scotland. He also completed a clinical fellowship in advanced pain medicine in Glasgow, and a clinical research fellowship in Spinal disorders in Nottingham. His Master of Surgery degree is from the University of Liverpool, and his Master of Business Administration degree is from the University of Strathclyde, Glasgow. 
He is a Fellow of the Royal College of Physicians and Surgeons of Glasgow, a Member of the Royal College of Surgeons of Edinburgh, a Fellow of the European Physical and Rehabilitation Medicine Society, and a Fellow of the International Society of Quality in Healthcare. 
Dr. Al Khayer's approach to clinical care is largely grounded on the holistic multidisciplinary and interdisciplinary models. He firmly believes in working closely with patients and their families in order to develop patient-centered goals, and in pursuing excellence in care provision at every encounter with the patient.
 Dr. Al Khayer has been working in NMC Provita since 2017. His talk is about the role of the healthcare care private sector in improving patient experience.   He presents the effect of the ABM program in a Long Term Care Hospital during Covid 19 era as an example.