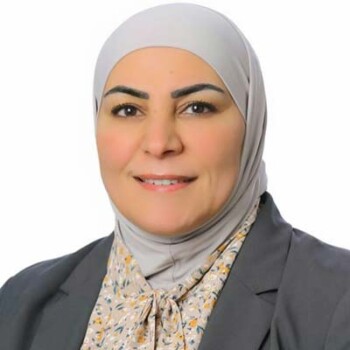 Dr. Majeda A. Al-Ruzzieh
Chief Nursing Officer, Chairperson Patient-Centered Care Committee
King Hussein Cancer Center (Jordan)
Dr. Al-Ruzzieh is the Chief Nursing Officer at King Hussein Cancer Center (KHCC) in Jordan. Under her leadership, KHCC becomes the first hospital in Jordan, 10th outside US to achieve Magnet® Designation from the American Nurses Credentialing Center (ANCC) in 2019. Dr. Al-Ruzzieh has brilliantly led KHCC nursing toward becoming the first hospital in the Middle East to achieve accreditation for shared governance by the Forum Shared Governance. Not only nurses in decision making but also patients and their families through her leadership for PCC Committee at KHCC. 
She believed that professional development is a lifelong journey for professional nurses, so she established the professional development unit in the center which achieved two major accreditations aiming to assure high standards for nursing training. The unit for continuous education provider accreditation from ANCC and finally in 2022 the accreditation with DISTINCTION for the first Oncology Nursing Residency Program in Jordan and second in the Middle East. Additionally leading the Life Support Center which is accredited as center of Excellence in MENA Region.
Received her doctorate from the University of Jordan. On a national level, she has served as a member of the executive board for the Jordanian Nursing Council. She has many publications as well as presentations in international professional meetings. In 2013, she was the first winner for HRH Princess Mona Al-Hussien Award for Nursing Leadership in Jordan.