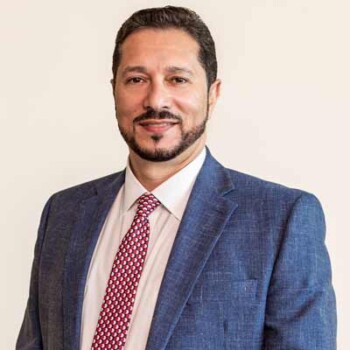 Dr. Mohaymen Abdelghany
Chief Executive Officer
Danat Al Emarat Hospital for Women & Children
Dr. Mohaymen Abdelghany serves as the CEO of Danat Al Emarat Hospital for Women & Children, a Mubadala Health partner, in Abu Dhabi, UAE. He is a highly accomplished senior physician and healthcare executive with more than 25 years of global experience that reflects achievements across various public and for-profit health systems.
Dr. Abdelghany graduated from Harvard Business School and INSEAD executive leadership programs and holds 2 master degrees in anesthesia and healthcare management. With his diverse expertise within the clinical, managerial, consultancy, quality, technology and business domains, he has successfully led different business transitions in the healthcare sector such as startups, turnarounds, realignments, and sustaining success across the region. Prior to his appointment at Danat Al Emarat Hospital for Women & Children in December 2020, he served as the CEO of Dubai-based Al Zahra Hospital from 2014 – 2020 driving the hospital through a carefully planned growth and differentiation strategy. Moreover, Dr. Mohaymen currently serves as a Physician Consultant at the Joint Commission International (JCI)'s world class expert team of less than 60 global consultants advising hospitals and health systems across the globe since 2017. Throughout his professional career, he served as the Vice President of Healthcare and Executive Director of the Healthcare Advisory Board at KEF Holdings; and served as the CEO of Saudi German Hospital in Dubai and in Abha, KSA; and of Al Sharq Healthcare Group.
Dr. Abdelghany was selected as Linkedin's Most Power Profiles CEO in the UAE for 2016; and was awarded by Dubai Health Authority and Health Magazine as the UAE's Best Healthcare Chief Executive in 2018. Dr. Abdelghany is a Certified Professional in Healthcare Quality (CPHQ) and Six Sigma Certified. He serves on several healthcare and advisory boards in the UAE and Middle East, and actively participates as a speaker/panelist in major international and regional healthcare conferences, symposia and meetings. He is also a member in several associations such as the American College of Healthcare Executive, MENA Chapter; the American Institute of Healthcare Quality; the Dubai Medical Tourism Club; the Dubai Private Hospital Association; the Egyptian Medical Syndicate and others.