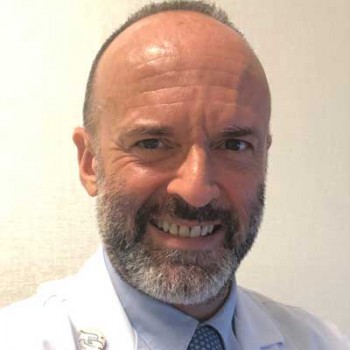 Dr. Piergiorgio Neri
Medical Director of Patient Experience
Cleveland Clinic Abu Dhabi
Dr. Piergiorgio Neri, BMedSc, MD, PhD, FEBOphth is a Staff Physician for medical retina, and Director of the Uveitis Service at the EYE INSTITUTE, Cleveland Clinic Abu Dhabi, in United Arab Emirates. Dr Neri is faculty member of the Cleveland Clinic Lerner College of Medicine of the Case Western Reserve University in Cleveland Ohio, USA as Clinical Full Professor of Ophthalmology. He's been appointed Clinical Adjunct Full Professor of Ophthalmology at Khalifa University also.
Dr Neri is currently also the Medical Director of Patient Experience in Cleveland Clinic Abu Dhabi and he is also chairing the Cleveland Clinic Abu Dhabi Patient Experience Committee. Dr Neri is also board member of the Clinical Competency Committee and the Operation Council of Cleveland Clinic Abu Dhabi.
Dr. Neri received His medical degree from University of Ancona Medical School, Italy. He completed His residency at University of Ancona Medical School. Dr Neri was Honorary Research Fellow in Uveitis at the Eye Department, University of Aberdeen, scientist visitor at the University of Tübingen and Visiting Professor at Moorfields Eye Hospital in London. In 2010 he was named Assistant Professor of Ophthalmology at the Polytechnic University of Marche-Ancona.
Dr Neri was medical retina consultant and clinical ocular immunology consultant and at the OspedaliRiuniti "Umberto I-GM Lancisi-G Salesi" of Ancona. He was director of the Ocular Immunology Service at the OspedaliRiuniti "Umberto I-GM Lancisi-G Salesi" of Ancona since 2007.
Dr Neri is member of the International Ocular Inflammation Society (IOIS), the European Society of Retina Specialists (EURETINA), International Uveitis Study Group (IUSG) and the European Association for Vision and Eye Research (EVER). Dr Neri has served EVER as Section Program Secretary for Immunology/Microbiology Section since 2010 and became Section President in 2016, a role which he is still covering. Dr Neri is also the Secretary General of the Society for Ophthalmo-Immune Infectiology in Europe (SOIE) since 2007.
Dr Neri authored of more than 100 scientific publications and contributed to several text books. He is currently the Editor in Chief of International Ophthalmology.