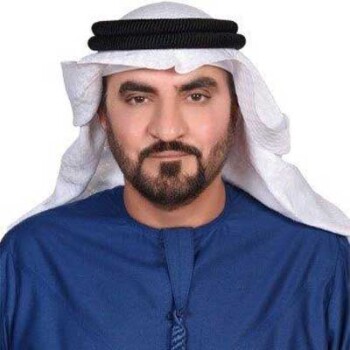 Dr. Rasheed Al Hammadi
Acting Division Manager Medical Research & Development, Research & Innovation Center
Department of Health, Abu Dhabi
Dr. Rasheed AL Hammadi is currently Acting Division Manager Medical Research & Development in the Department of Health Abu Dhabi research and innovation Center. He earned his Bachelor of Science from Villanova University, Villanova, PA, in 1990, his Masters of science in Embryology from Temple University, Philadelphia, PA in 1993, and his Ph.D. in Anatomy & Cell Biology/Neuroscience from University of Saskatchewan, Saskatoon, Canada in 2010, working with Prof. David Schreyer. In his thesis work he pioneered deciphering the molecular mechanisms controlling the process of peripheral nerve regeneration.
After completing his PhD, DR. Rasheed accepted a position as an assistant professor of biology at the college of sciences, UAE University, where he worked for a total of 26 years. During that time, he taught various courses and developed new ones. He focused in particular on nerve regeneration discovering and characterizing many new states. In his final years at UAE University, he was seconded to the Ministry of Education as a director of curriculum, where new scientific and medically oriented curricula were developed. He also earned a higher Diploma in Innovation from the Prime Ministers public sector program, jointly through Cambridge University.
In August 2018, Dr. Rasheed accepted his current position at the Department of Health (DoH) Abu Dhabi as Manager of Medical Research Department, where he has been since that time. While at DH, Dr. Rasheed has developed new regulations and guidelines governing clinical research, CROS, and COVID-19 research activities. He continues his work on developing new innovative ideas to be disseminated in the medical research arena of Abu Dhabi Health Sector. He is currently developing a long-term strategic initiative in healthcare sector.
Dr. Rasheed has over 10 peer reviewed publications in pharmacology, toxicology, anatomy and biological sciences.