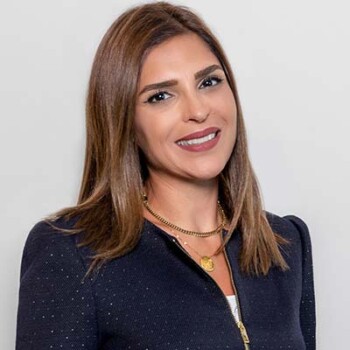 Farah Imad Al Alami
Chief Communications & Marketing Officer
Abu Dhabi Stem Cells Center (UAE)
Farah I. Al Alami has more than 19 years' experience in communications and marketing in the region, with special focus on healthcare. She was listed in 2019, 2020 and 2022 as one of the top most influential communications and PR professionals in the Middle East in the Power Book of PR Week, UK. Moreover, she was listed in the Arabian Business list of 40 under 40 seasoned leaders and young executives in December 2019 and twice in Arabian Business list of GCC Young Achievers in 2021 and 2022.
Al Alami was the Chief Marketing & Communications Officer at United Eastern Medical Services (UEMedical) from January 2016 until October 2021, leading the marketing and communications functions on a corporate level and throughout UEMedical's subsidiaries including Danat Al Emarat Hospital, HealthPlus, Moorfields Eye Hospital Abu Dhabi and several projects in KSA. Farah then moved temporarily to Mubadala Health as Senior Director, Communications & Marketing as part of Mubadala Health's acquisition of UEMedical in 2021. She was also appointed as Chief Marketing & Communications Officer at NMC Healthcare until February 2023.
From 2013 to 2016, Mrs. Al Alami served as the Regional Director of Communications & PR in Middle East region, Turkey & UK for US-based Cleveland Clinic. She previously led media relations and internal communications at Abu Dhabi's tertiary hospital Sheikh Khalifa Medical City for 7 years.
Al Alami is also an elected Board Member at the Middle East Public Relations Association (MEPRA), a non-profit association established to set world-class standards for the public relations and communication industry in the Middle East, since January 2016 and has served as a committee member in the Women in Business Committee under the American Chamber of Commerce Abu Dhabi (AmCham Abu Dhabi) from 2017 – 2019. She was invited to present segments in a weekly medical TV show (Fi Baytina Tabeeb) on Abu Dhabi TV Station from 2012 to 2014 to promote healthy lifestyles.
Al Alami holds an MBA (with distinction) from New York Institute of Technology (NYIT), and a bachelor's degree in Marketing from the Yarmouk University in Jordan. She has also earned a Certificate of Completion in Leadership from Harvard Business School Online in January 2023.