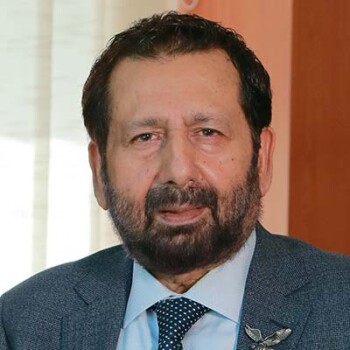 Dr Raza Siddiqui
Visionary, Healthcare Stalwart and Business Leader (UAE)
Visionary, Healthcare Stalwart and Business Leader
Passion, creativity, innovation and leadership are some of the words that define Dr Siddiqui and lend him the unique ability which distinguishes him from many other in the business. During his illustrious career spanning over four decades, he has successfully driven many high-profile projects and bagged various awards and accolades for his pioneering work in the healthcare domain.
Starting his career as a management trainee, today he heads Arabian Healthcare Group, one of the leading healthcare groups of UAE, besides being Executive Director of the premium RAK Hospital.  From choreographing the launch of Apollo Hospitals in India to establishing Belhoul Speciality Hospital and RAK Hospital in UAE and turning them into profitable ventures within a quick span, he has been instrumental in setting up several other multi-specialty hospitals with international collaborations, diagnostic laboratories, and also a medical college.
His forte lies in promoting countries and institutions as medical tourism destinations and he has done commendable work within this domain by promoting UAE and bolstering RAK Hospital as the place of choice for medical tourists. In every organization that he has worked for, he has introduced fresh insight and ideas that not only position the business as a force to reckon with, but ensure that it continues to conquer more frontiers.
Current positions:
Board Member – RAK Medical and Health Sciences University, RAK Hospital and Arabian Healthcare Group
Advisory Board Member – CEO Club International and Arab Health 2020
First Indian Board Member – RAK Chamber of Commerce and Industry
Founding Board Member – UN Office for Disaster Risk Reduction
Recent Awards:
International Business Achiever – CEO Forum Mumbai 2020
CEO of the Year – Global Healthcare & Medical Tourism Conclave – 2019
Top 30 Indian Executives in the Arab World 2018 – Rank 26 – 2019
World Medical Council Excellence Award – Hall of Fame – 2019
Most Influential CEO of the Year Award 2018 – CEO Clubs Network
Top 50 Indian Executives in the Arab World 2018 – Rank 30
Token of Appreciation by HH Sheikh Saud Bin Saqr Al Qasimi the Ruler of RAK and Member of Supreme Council for serving as The Member of The Board of Directors in the RAK Chamber of Commerce since 2013 onwards – 2018
Healthcare CEO of the Year – CEO Club International – 2017
Healthcare Excellence CEO of the year – India UAE Business Forum – 2017
Excellence in Healthcare – UAE India Economic Forum – 2017
Healthcare Business Mentor of the Year – Six Sigma Healthcare Award, Delhi India – 2017
Asia Health Award (2017)
The Middle East HealthCare Leadership Award (2017)