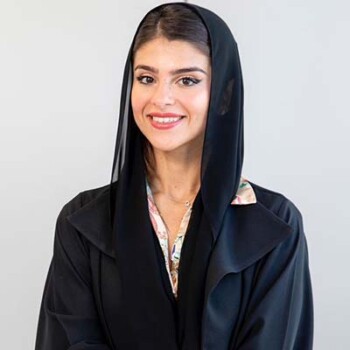 Eman Ali Al Shorafa
Senior Healthcare | Founder & CEO
Wevin Investments & Consultancy
Ms. Eman Al Shorafa earned her bachelor's degree in marketing and business administration from Zayed University in 2009. She has started her career in marketing and executive administration at United Eastern Medical Services (UEMedical) for few years before climbing her career ladder to become the Chief Protocol Officer of the leading Danat Al Emarat Hospital for Women & Children for more than 4 years. From 2019 to 2022, she was the Chief Operating Officer of Danat Al Emarat Hospital managing a team of 200 employees from Patient Experience to Operations, Call Center, Business Office, Planning Office, Biomedical Engineering, Facilities Management, VIP services, Hospitality Services, Catering, Patient Relations, and more.
She was listed in the Arabian Business list of 40 under 40 seasoned leaders and young executives in December 2019, and in Arabian Business list of GCC Young Achievers in 2021 and 2022. Moreover, she was listed in the Encyclopedia of Emirati Women published by the General Women Union in 2020.
As one of the youngest female Emirati executives in the healthcare sector in UAE, Ms. Al Shorafa has proved herself as an excellent leader, inspiring her team members and colleagues to achieve positive outcomes and improve patient satisfaction rates.
In 2022, Ms. Al Shorafa founded Wevin Investments – the holding company of diverse organizations in security, technology, and education. She is a partner in Bedayati Nursery in Abu Dhabi. Her second establishment, Wevin Consultancy provides consultancy services for healthcare organizations to enhance their patient experience, hospital image, operational capabilities, hospitality, VIP services, facilities management and beyond.
Ms. Eman Al Shorafa is also a member in the Emirates Angels Investors Association. She is a Board Member at United Eastern Group (UEG) and United Eastern Technical & Management Training (UETMT) and the co-founder and manager of 3 businesses including a high-end café (Mon Café), a retail boutique shop for children (Mon Bebe) as well as a prestigious Swiss chocolate brand (Rohr Chocolats)