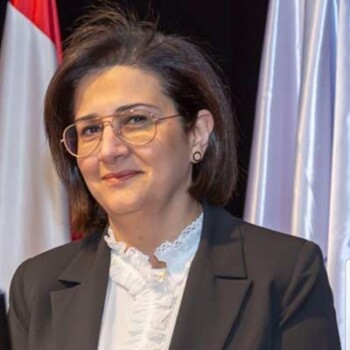 Dr. Rola Hammoud
President
American College of Healthcare Executives, MENA Chapter (UAE)
Chief Medical Executive at Clemenceau Medical Center- Dubai
Vice President , ACHE- MENA
Founder & Former President of the Lebanese Society for Quality and Safety in Healthcare.
ISQua Expert 
Dr. Hammoud brings over 30 years of experience in Anesthesiology and 20 years of experience in Healthcare management , leadership and consultancy on governance, strategy and quality service delivery.
She has Graduated as Medical Doctor from "Universite Libre de Bruxelles", Belgium and as Anesthesiologist from the American University of Beirut.
She is American Board Certified in Healthcare Management from the American College of Healthcare Executives and is certified from the Harvard Business School in the "Management of Health Care Delivery for Executives".
She Holds a Masters in Hospital Management from ESA business school and University Paris VII (France), a Teaching diploma, Mediation diploma and a Corporate Governance certification.
In addition, she is an academic Lecturer on Patient Safety and Risk Management and a reviewer for quality and anesthesia journals. She is a great advocate for total quality management and patient safety and committed to ensure high quality care is delivered consistently in a patient centered approach.
Dr Hammoud founded the "Lebanese Society for Quality & Safety in Healthcare" in 2012 and was elected twice as its President. During her tenure, the Society was able to collaborate with WHO on establishing a national "Patient Safety Goals" project in Lebanon, training healthcare providers on those and setting measurement indicators to be used for benchmarking. She also served as a consultant on the Global Patient Safety Call for action initiative by WHO.
As a National & Regional speaker on Healthcare Quality and Accreditation, she served in 2018 as Expert on the national committee for the Lebanese accreditation standards development and a training faculty of the Lebanese Ministry of Public Health surveyors.
After serving for 10 years as a Chief Quality Officer at CMC Beirut, she moved to Dubai as the Chief Medical & Quality Executive of Clemenceau Medical Center Dubai where she led the opening, commissioning, licensing, accrediting, and providing medical leadership in the pursuit of CMC's strategy of delivering the highest standards of care in the region. This happened during COVID-19 crisis and its impact on healthcare system changes in Dubai.
Dr Hammoud was elected in 2021 as the Vice President of the MENA Chapter of the American College of healthcare Executives and was nominated in July 2022 an ISQua Expert.