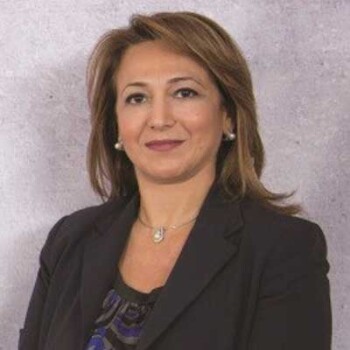 Niven Al-Khoury
General Manager for General Medicines in KSA & Gulf Countries
Sanofi
Niven Al-Khoury is a Canadian who was born and raised in Montreal, as well as within a North American multicultural society. Having embraced and embedded the value of cultural diversity into her character, this has served to further complement her solid business acumen in both the North American and Emerging Markets, especially after having moved to Egypt following her marriage.
A graduate of the Faculty of Pharmacy at Université de Montréal, Niven first worked as a pharmacist in Montreal before joining the pharmaceutical industry. Since then, Niven has gained more than 25 years' experience in Sales, Marketing, Strategic Public Affairs & Corporate Communications, General Management, as well as in Corporate Franchise leadership roles. This includes having spent 17 years in Executive Management positions, as well as several Board Membership roles in industry-related associations. Within those roles, Niven was responsible for the overall business performance of the company as she drove strategy and led large teams in major business turnarounds and impactful mindset transformation towards sustainable and profitable growth. Niven was also honoured and recognized for her considerable achievements and valuable contribution to healthcare and her commitment to ethics, social responsibility, and women's career development.
Niven strongly believes that collaboration across different stakeholders, industries, governments, patients and policy makers is key towards adapting to the current, rapidly evolving worldwide business environment and market dynamics, which now has to navigate through ambiguities and complexities. And, being extremely well connected in all the markets she works in, Niven's priority is to ensure that she fosters an internal culture of empowerment, along with accountability in developing other people's capabilities.
Throughout her career, Niven has led large teams in key strategic countries such as Egypt, especially during its period of revolution and economic challenges, and successfully expanded the company's reach and services to more patients in need. She then moved on and led another large team in Canada, which was then a key yet complex mature market that was passing through a significant healthcare transformational period. While playing an active role with an influential voice as a Member of the Board of Directors of the Innovative Medicine Canada Association, Niven enjoyed leading an organization with a different mindset through its leadership transformational journey.
Previously, Niven was based at the company headquarters in Paris, where she led the Diabetes and Cardiovascular franchise across China and Emerging Markets. This includes Asia, Eurasia & Middle East, Africa & Latin America regions.
Today, Niven is based in Dubai as General Manager for General Medicines across KSA & Gulf countries.
On a personal level, Niven strongly believes that life is a journey, where a person's legacy rests upon the impact he or she creates and leaves behind on loved ones, teams and most importantly, patients. With a passion towards making an impact on people's lives (on patients and the people she works with), this serves as Niven's main source of inspiration and purpose regardless of any challenges or complexities that come her way. For Niven, her main responsibility lies in finding ways to turn around adversities and challenges and create true sustainable value to people's lives and the company.
Beyond her main leadership responsibilities, Niven also spends a lot of her time mentoring and coaching key female and male talents across the organization as she firmly believes in the value of helping them advance their careers to the next level, as well as in building a pipeline of future leaders for the company.
For Niven, while it important to enjoy the journey and value each stage of life, working hard while seizing every opportunity of joy and fun is key to ensure a solid yet balanced steps forward.
Niven is a wife and a proud mother of two young very independent men, whose openness to the world have enabled them to start building key steps towards the next critical stage of their lives, as well as in shaping who they are and their future roles.