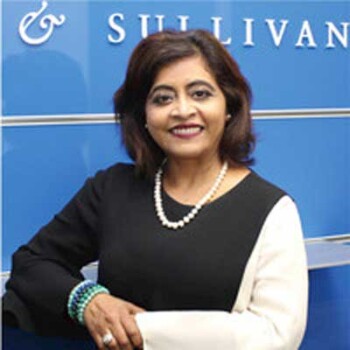 Reenita Das
Healthcare and Life Sciences Partner and Senior Vice President
Frost & Sullivan
Reenita Das is a healthcare futurist and strategist, passionate about changing the healthcare industry. She got voted the top 100 women in Femtech and Healthtech and the top 50 Healthcare strategists to follow in 2021. She has lived and worked in over 10 countries in the world, focusing on healthcare issues and working with public and private sector to implement growth change strategies. Das currently serves as Partner and Senior Vice President and is the first woman Partner at Frost & Sullivan. In addition, she is the Founder of GLOW (Growth and Innovation of Women) program. She is also on the Board of a non profit "High Tech High Heels" Silicon Valley that focuses on increasing gender diversity for STEM. She is also part of the Advisory Board in Arab Health.
In her current role, Das manages a global business and works largely with clients on futuristic scenarios and forecasts in understanding how healthcare will operate 20 years from today. She is focused heavily on rethinking consumer business models as healthcare makes a transition to health and identifying opportunities with companies outside of healthcare to bring solutions to the healthcare sector. She is also focusing heavily on showcasing "Femtech" and the growth opportunities from this new sector which includes advising femtech companies on the right strategies and commercial business models to success.
Contributor on Forbes: http://www.forbes.com/sites/reenitadas/
10 Ways The Internet of Medical Things Is Revolutionizing Senior Care
Women's Healthcare Comes Out Of The Shadows: Femtech Shows The Way To Billion-Dollar Opportunities
Will Technology In Healthcare Make The Rich Healthier And The Poor Sicker?
Is Doctorless Care the Future of Healthcare?
Does Blockchain Have A Place In Healthcare?
Drug Industry Bets Big On Precision Medicine: Five Trends Shaping Care Delivery
Arab Heath: https://www.arabhealthonline.com/magazine/en/latest-issue/2019-issue-5/rise-of-femtech-and-sheconomy.html
Online Article Link: https://insights.omnia-health.com/hospital-management/webinar-top-predictions-gcc-healthcare-2021
Magazine link – https://insights.omnia-health.com/digital-magazines/omnia-health-magazine-april-may-2021#1
Videos and Podcasts
The future of healthcare https://youtu.be/2SHlgRVPXwA
Digitization of Healthcare: Gender-Specific Digital Twins
Simplicity and Empathy in Healthcare
Don't Take No for an Answer
Side Effects Include Disruption
[KJZZ] Is The Future Of Health Care In Femtech?
Speaking Engagements -HIMSS, Med Tech Impact, Bio Japan, Bio Taiwan, Digital Health, HLT Advamed, Digital Health in the Middle East, Arab Health, Women Innovation and Technology, Israel