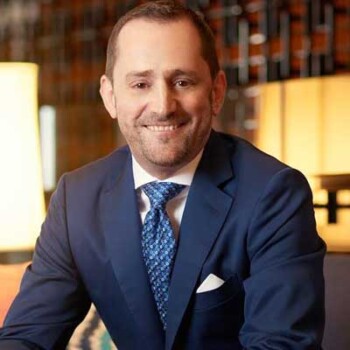 Simon P. Casson
President - Hotel Operations Europe, Middle East & Africa
Four Seasons Hotels & Resorts
"In hospitality, the quantum leap from "good to great" is driven by people. Nurturing an environment within our hotels, that allows each employee to thrive, is mission critical."
Simon Casson oversees Four Seasons hotel operations across a diverse portfolio including more than 40 operating properties and 20 under development, ranging from palace hotels in Europe to glittering skyscrapers in the Middle East to hideaway beach resorts in Africa.
Each project brings something new, whether it's a ground-up build, a careful restoration or a conversion of an established hotel to the Four Seasons brand. Simon takes great pride in working collaboratively with hotel owners to deliver the very best product in each market, delivering exceptional guest experiences, and ensuring that each property's unique attributes and each destination's culture are reflected in everything from guest room design to restaurant concepts.
Incredible properties attract guests, but it's what happens inside that brings the story of Four Seasons to life. Simon views his role, and that of every Four Seasons employee, as that of brand ambassador, exceeding the expectations of each individual guest delivering the highest levels of personalized service and exclusive experiences.
Simon supports all hotels in the region in this mission, and has a well-earned reputation for developing talent. He's known for helping others reach their full potential by sharing his wealth of experience, acting as a mentor, and providing individualized coaching.
"The more we achieve, the more we attract the best people. By creating a fertile environment where our employees are given the freedom to make on-the-fly decisions and bring forward fresh ideas, we are able to deliver on our brand promise."
CAREER HIGHLIGHTS
At Four Seasons: Joined the company in 1989 as an Assistant Manager at what is now Four Seasons Hotel London at Park Lane. After further assignments in London as well as Washington, he returned to the same hotel as Hotel Manager in 2000. In 2005, he opened Four Seasons Hotel Doha, and was promoted to Regional Vice President in 2011 before moving to Dubai for the brand's first opening in UAE in 2014. During this time he also led the company's Global Spa Task Force. Simon was promoted to his current position in 2016 and is based in Dubai.
Industry recognition: Regularly appears on the Hotelier Middle East Power 50 List and speaks at industry conferences on leadership and hospitality trends.
Giving back: Simon is a founding board member of the Enderun Hospitality Management school in the Philippines, and a supporter of The Tuloy Foundation, helping marginalized youth find hospitality opportunities in the Philippines.Education: Barry College of Catering and Hotel Administration, Wales; General Manager Program, Cornell University, Ithaca, New York; Honorary Degree, Glion Institute of Higher Education, Switzerland
PERSONAL INSIGHTS
A glimpse into the future: As a teen washing dishes in a busy kitchen in northern England, Simon was always intrigued by what he saw through the swinging door to the restaurant.  "I vowed then and there that I would be part of that world one day – not as a customer, but as someone who made that excitement happen."
Paying it forward: Simon often speaks to recent graduates and rookie employees, sharing his story of joining Four Seasons as a young man with little experience or education. "Here I found a culture of learning, with mentors who coached me to stretch myself and continually raise the bar on our product and service to our guests. My hope is to encourage the next generation of hoteliers with my Four Seasons experience."
Recharging: Music and reading form a part of every day. Simon loves to sing and play piano, and always has a tune in his head. Regular exercise is also key. A daily swim and tennis with friends counter his love of food and wine.
Favourite travel destination: Simon loves to escape to his country home in Istria, Croatia with his family. "Renovating the house and estate in recent years has allowed me to get closer to nature, appreciate the beauty of the land, and get away to a quiet place for healthy reflection. Being there with my family is an enduring joy for me."